On the 25th of November, 16 students from University of St. Gallen, University of Applied Sciences Northernwestern Switzerland and École Hôtelière Lausanne met at KPMG in Zurich for the Swiss National Final of the KPMG International Case Competition (KICC). The team will now prepare themselves for the International Final in April 2017 in Lisbon.
This was the National Final
As a team of four, they had 3 hours to read and analyze a challenging case and prepare a 15 minute presentation to be given in front of a KPMG jury consisting of Directors and Senior Managers.
"Once again the KICC National Swiss final was a great success! Every year it is so rewarding to watch what 16 students manage to present after just 3 hours of preparation! As in the prior years, KICC allowed us to judge some creative and very talented students in order to find the winner who will accompany us to the final in Lisbon in April 2017" says Cindy Hofmann, head judge and Director in Forensic at KPMG.
After their presentation, the judges provided the teams with a constructive and direct feedback about their performance and solution to the case. Furthermore, the participants attended a Basic Business Skills Training where they got to know more about different techniques of small talking and practiced an elevator pitch. Daniel Diederichs, Senior Manager Financial Management and Coach during the KICC International Final in Lisbon, holds that "the KICC Switzerland event was a great success! All teams that participated did an excellent job. It was very exciting to see that each team was able to develop a unique approach for solving the case."
The challenging and fun day was completed with a cooking event and gala dinner. Together with HR representatives and the judges the teams cooked a delicious meal including chocolate lava cakes – an easy task for the EHL team.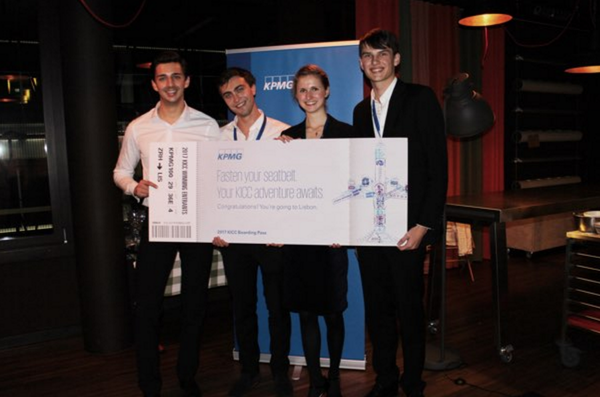 And the winner is…
But there can only be one winner – and it is Team "Sophomores" of University of St. Gallen.
Sarah Nordt, team captain, says:
To us it is a great honor to represent KPMG Switzerland at the KPMG International Case Competition 2017 in Lisbon. We are highly motivated to give our best, unlock our potential and fasten our seatbelts!
Preparation for Lisbon
Together with the coach the team will now prepare themselves for the International Final in April 2017 in Lisbon. There they will compete against 23 other KPMG member firm teams in at least two case studies. And there will also be plenty of time to network, get to know students from all around the world and experience the KPMG culture. Definitely a once in a lifetime experience!
Stay tuned for KICC 2017 in Lisbon! We will accompany the team during the International Final on Facebook.
Klicke hier für die deutsche Version des Artikels.