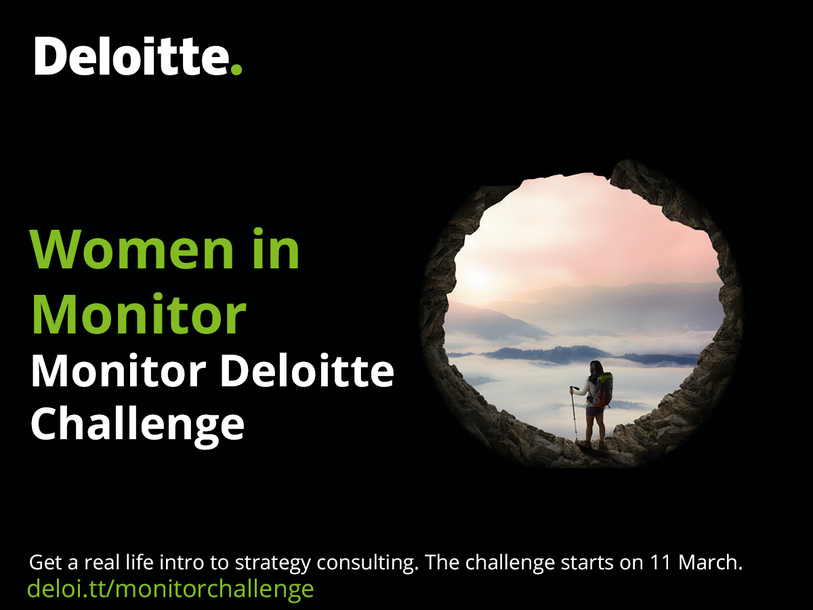 Women in Monitor Challenge
Event ist bereits abgelaufen!
Erstelle Dir jetzt einen Account und erhalte sofort eine Nachricht für neue Events.
Registrieren
Are you interested in learning more about a career in Strategy Consulting? Do you enjoy working in an interactive team to approach multidisciplinary business challenges? If so, gain real life exposure and hands-on experience by participating in the Women in Monitor Challenge.
What is the Women in Monitor Challenge?
The Monitor Challenge is a strategy competition organized by Monitor Deloitte Switzerland, open to female master students graduating in 2021 or 2022 (see sign up information). Participants can sign up individually and will be matched into teams of 3 to 4 students who will compete on a business case provided by the Monitor team. The competition will take place between 06 March and 26 March 2021.
Why participate?
Get the chance to participate in a challenging team experience
Discover a real-life strategy consulting business case
Get the opportunity to meet and network with the Monitor Deloitte Switzerland team
Sign up information
This edition of the Monitor Challenge is specifically targeted at female students
Only students graduating from Master level studies in Switzerland in 2021 or 2022 are allowed to participate in the competition
Participants can sign up individually and will be grouped together with other participants to create a diverse group, which reflects the real life working environment in strategy consulting
Please note that as part of the registration students will be required to submit their CVs. Students will be screened based on their education, work/internship experience, extracurricular activities etc.
Students that pass the initial screening will receive an invitation to participate in the first round of the competition
Participants must sign up before the subscription deadline, set on March 7 at 23.59 CET.