How IoT works and impacts our lives - and other questions you want to ask!
Event ist bereits abgelaufen!
Erstelle Dir jetzt einen Account und erhalte sofort eine Nachricht für neue Events.
Registrieren
About this Event
The "Internet of things" (IoT) is becoming an increasingly growing topic of conversation not only in the technical community. And there are a lot of complexities around the "Internet of things". Simply said: "IoT refers to the billions of physical devices around the world that are now connected to the internet, collecting and sharing data". So, what are the potential impacts of this concept have in your everyday life? Where is "IoT"? And how does it really work?
At this insightful event, our speakers will give you first-hand information on "IoT" followed by a Q&A session with Zurich's IoT experts. We are looking forward to seeing you there!
Agenda
6:00PM-6:30PM: Door Opening & registration
6:30PM-6:35PM: Welcome
6:35PM-7:10PM: Keynote speakers presentation (see speaker below)
7:10PM - 8:00PM: Panel Discussion with all speakers and Q&A
8:00PM-9:00PM: Networking drinks & finger food
Speakers
Julian Studer, Co-Founder Loriot (Smart Cities)
Julian is the founder and manager of LORIOT with headquarter in Switzerland and offices in Valencia, Budapest, Berlin, and Tel-Aviv. His company was established in 2015 and is now one of the leading IoT companies for LPWA networks. LORIOT provides SaaS services all around the world, in more than 130 countries, they are operative and known for its reputation and track record.
After 10 years as a top banker in Geneva and Zürich at one of the biggest banks in Switzerland, he decided to go his own way and start his own company to become independent. Julian managed to grow his company exponentially since 2015, and he is focusing on continuous growth in the coming years. Being fluent in 5 different languages has been an advantage in growing his business in a booming sector like IoT.


Vikram Bhatnagar, CEO and Co-Founder of Akenza (Facility Management)
Vik is CEO and Co-Founder of Akenza, a technology provider specializing in IoT. His vision is to make IoT simple for the most complex of systems. After hearing re occurring nuances in the IoT industry Akenza developed the Akenza Core which is a fast, simple and easy system for all your IoT needs. Based in Switzerland, Vik is a reputed entrepreneur, a digital leader and committed to changing the landscape of business and cities using the power and intelligence of IoT. His work is dedicated to accelerate business and living potential in dynamic ways by providing software and analysis that will ensure longevity as you evolve your business and environment.


Suki Dusanj-Lenz, Chief Marketing Officer at Akenza AG (Facility Management)
Suki is the Chief Marketing Officer at Akenza AG. She has dedicated her career to connecting people and generating intelligent campaigns for the past 20 years. Committed to get industry and consumers positively working with companies both on and off line Suki now paves the way for Akenza as they develop globally. Born and raised in the UK, with Indian heritage Suki resides in Zurich, Switzerland. She is a passionate advocate for gender equality and encourages more women in tech. Suki is also a pro bono Country Head (India) for the worlds largest growing fashion sustainability campaign: www.fashionrevolution.org continuing campaign advocacy and leading digitised activism with a commitment to questioning the transparency of fashion supply chains in India. The campaign has now spread into 100 countries around the world.


Tabea Kaldis, working student at Siemens (Smart infrastructure)
Tabea has a bachelor degree in General Management from ZHAW and wrote her thesis on IoT with the title "Space as a service and IoT – a new business model for property owners". In 2017 she joined Siemens Building Technologies as working student and supported the development of IoT Sensors in the field of building automation. Last year, Tabea started her Master Degree in New Businesses at HTW Chur and joined the Smart Field Devices at Siemens Smart Infrastructure, responsible to identify new business opportunities for Digital Services.
Maria Husmann, Team Lead Web of Things at Siemens (Smart Infrastructure)
Maria has, besides a Bachelor and Master in Computer Science from ETH, written a doctoral thesis on cross-device development. She is now working as Team Lead at Siemens Smart Infrastructure. During her studies she worked as Software Engineer as well as Teaching and Research Assistant at ETH, before she joined Siemens as IoT Developer on a part time basis. Additionally, she is a lecturer at the University of Applied Science in Luzern for web and mobile development in the Digital Ideation program.
Moderator
Katherine Anderson, Community and Communications Manager at Martel-Innovate
Katherine is an expert content developer and community builder. As Communications and Community Manager of Martel-Innovate she supports the European Commission's Next Generation Internet and Next Generation Internet of Things initiatives, as well as projects supporting artificial intelligence, virtual and augmented reality, electronic Identity, privacy, trust and security.
Katherine worked most recently with the UN Human Rights Council and prior to that for the World Meteorological Organization, collaborating with space agencies, technical specialists and civil society to promote use of data to measure and achieve sustainable development goals and promote equity so that no one is left behind.
Katherine worked as a broadcast journalist for the BBC, holds a Masters in International Affairs and worked on communications and advocacy campaigns for The Global Fund, UNOPS and UNDP - in more than 20 countries in Africa, the Americas, Asia, and the Middle East.
Please be aware that we will take pictures during the event, which will be published on our Girls in Tech Switzerland website and social media channels and can be reused for marketing purposes at a later stage.)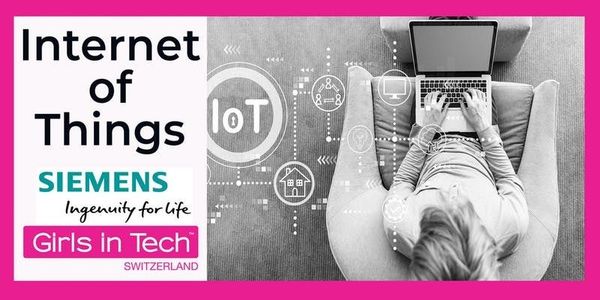 Anmeldung
Join our event and learn more about IoT from experts and get the chance to ask your questions!