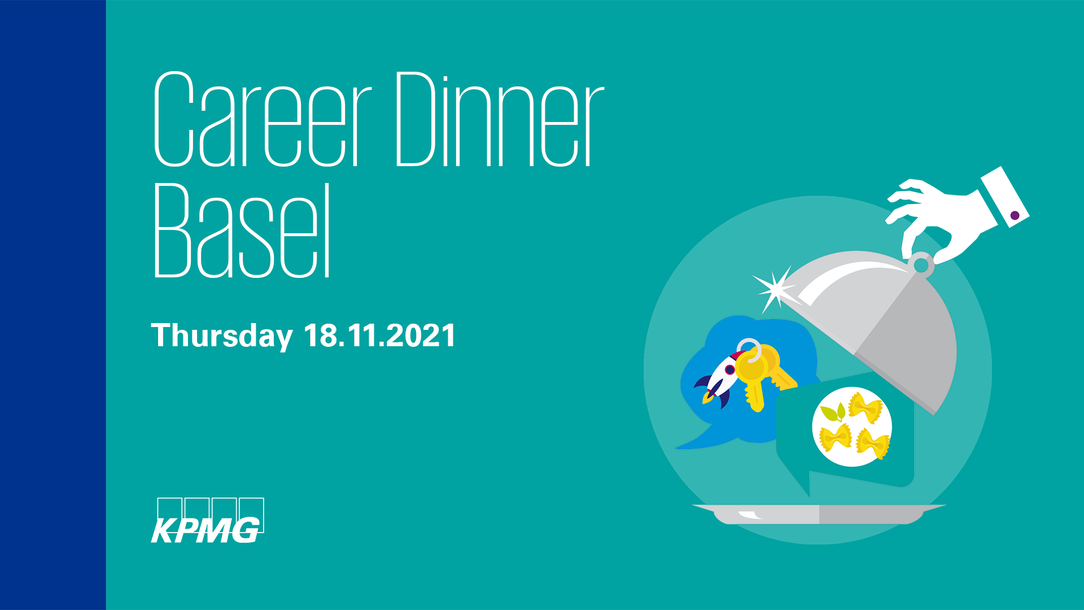 KPMG Career Dinner Basel 2021
18
NOV
KPMG
Steinentorstrasse 25, 4051 Basel
18:00 Uhr
Event has already expired!
Create an account now and get an instant message for new events.
Registrate
Dare to find your ideal employer? Während unseres Career Dinners in Basel tauschst du dich mit unseren Expertinnen und Experten der Wirtschaftsprüfung und der Steuerberatung aus. So viel Auswahl du an diesem Abend an Menüs und Gängen hast, so breit ist auch unser Angebot für deinen Karrierestart. Lass dich von dem lebendigen Arbeitsumfeld inspirieren und knüpfe wertvolle Kontakte für einen erfolgreichen Berufseinstieg. Erlebe unsere Unternehmenskultur in einem informellen Rahmen – wir freuen uns auf einen gemütlichen und informativen Abend mit dir!
Interessiert?
Bewirb dich mit deinem Lebenslauf bis Montag, 15.11.2021 für einen Platz an der langen Tafel.
Datum
Donnerstag, 18. November 2021
Programm
Ab 18:00 Uhr
Eintreffen im Restaurant Rein
18.15 - 18.30 Uhr
Begrüssung
18.30 - 21.30 Uhr
Gemeinsames Abendessen
Veranstaltungsort
Rein Bar & Restaurant (befindet sich im Radisson Blu Hotel)
Steinentorstrasse 25, 4051 Basel
Covid-19
Der Event wird einer Covid-19-Zertifikatspflicht unterliegen.
Contact
Weitere Informationen