Dare to shape the future towards a sustainable tomorrow
28
AOÛT
31
AOÛT
KPMG
KPMG AG, Badenerstrasse 172, 8004 Zürich
L'événement a déjà expiré!
Créez un compte maintenant et recevez un message instantané pour les nouveaux événements.
S'inscrire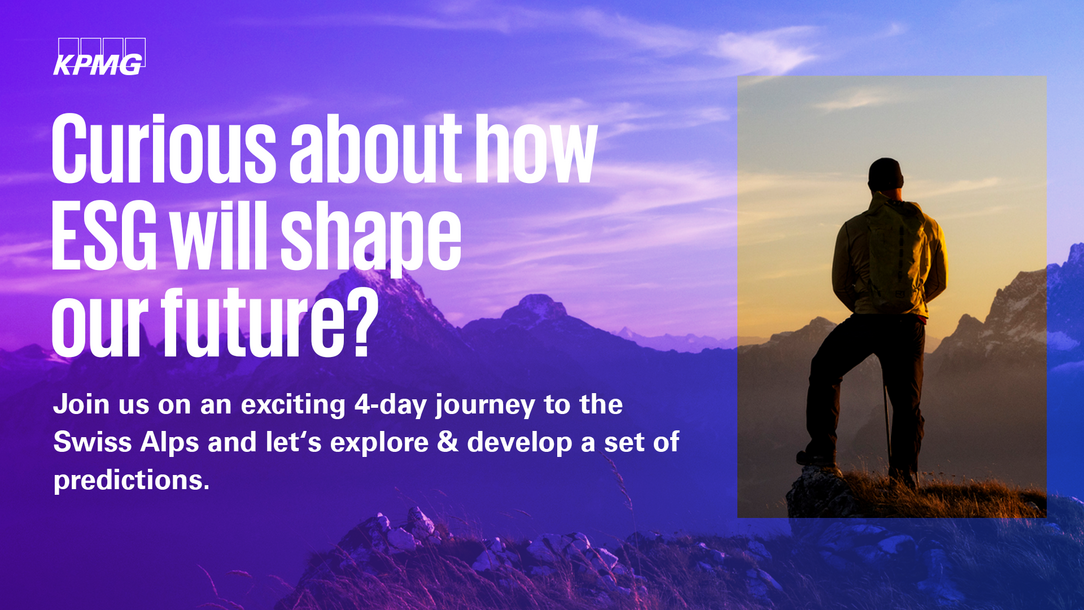 Détails de l'évènement
Détails de l'évènement
Start At: août 28, 2023
End At: août 31, 2023
A déjà eu lieu
Veranstaltungsort
KPMG AG, Badenerstrasse 172, 8004 Zürich
Audit / services financiers
Are you interested in ESG topics such as climate change, human rights and corporate governance? Do you ever wonder, how key ESG trends in ESG will influence our future? Then pack your backpack and join us for an exciting 4-day trip to the Swiss Alps. You'll collaborate with fellow students and KPMG mentors to envision the future amidst the stunning Swiss Alps.

What to expect:
For the second time, we are working on bold future predictions. Let's explore together and develop a set of predictions on the key trends which will take place in the ESG area. You will get the chance to publish your research findings on KPMG Switzerland's website and enrich your CV with this outstanding experience. Discover the predictions, which students have developed during our last "Dare to shape the future" initiative in 2022:
• Feeling the metaverse - A new era of storytelling?
• How the metaverse will revolutionize education?
• Redefining gravity in the metaverse

As you work on your predictions, you'll also have the chance to meet with renowned Swiss record climber and mountain guide, Dani Arnold, during an exclusive climbing training session. In 2011, Dani made history by breaking Ueli Steck's record in climbing the daunting Eiger North Face. This achievement marked the beginning of an extraordinary journey of pushing limits, defying odds and inspiring others to do the same. You'll have the opportunity to learn from him in an informal setting.

What makes you successful:
Are you curious, bold and adventurous? Then dare to make your mark by joining this journey, which is open to students from all fields of study. Being enrolled in a Swiss university's Bachelor or Master program and holding EU/EFTA citizenship are the only requirements for participation.

Simply submit your CV and a transcript of records - no motivation letter is required. The application deadline is 26 May 2023.
Program:
Monday, 28 August
Kick-Off at our headquarters in Zurich & joint travel to our destination in a rustic mountain village in the heart of central Switzerland

Tuesday, 29 August and Wednesday, 30 August
Dare to shape the future program inclulding climbing training with Dani Arnold

Thursday 31 August
Dare to shape the future program and individual return trip
Contact
Do you have any questions?